Portable Crushed Ice Maker, Automatic and Hand Crank Not Cubes



This is a professional large-capacity ice crusher that crushes up to 50 pounds of ice per hour.
Has heavy-duty stainless steel blades.

Waring Pro IC70 Professional Stainless Steel Large-Capacity Ice Crusher





Thanks for Chewing and Munching Your Ice With Us ! Here you can find that Crushed Ice Maker that you need for your home, office, dorm room and/or party plans,.


We have located products and links for you for some of the more popular choices of Crushed Ice Machines that will give you that extra ice that you need.

Satisfy your constant crunching, munching, chewing desires.

These portable crushed ice machines are easy to use and reasonably quite.

Crushed ice is great for party drinks as well. Check out The Ultimate Party Drink book shown below for a selection of 750 recipes for cocktails, smoothies, blender drinks, non-alcoholic drinks and more...

Ideal for frosty drinks. ice tea, martinis and deserts. For an even larger selection of Crushed Ice Machines view the crushed ice makers offered at these secure online sites:
Deni 6100 Automatic Stainless Ice Crusher

Victorio Hand Crank Portable Ice Crusher

This Deni portable electraic ice crusher is fully automatic and chips ice quickly and uniformly.
There is a safety-enhanced lid and the ice crusher has rust-free stainless-steel blades.
Even thought there is only one size of crushed ice produced by this Deni it is a size ideal for frosty drinks and deserts.
A scoop for distributing the crushed ice and a user guide is included.

The Victorio Hand Crank ice crusher can crush ice coarse of fine.
Has a strong suction base that keeps the ice crusher in place during use.
Holds approximately 4 cups of crushed ice.
Measures: 9.5" x 4.5" x 6".
This hand crank ice crusher is a perfect tool to add to any kitchen or wet bar.
Has stainless steel blades.
Ice Maker Crushed Ice Machine Snow Shaver

Hamilton Beach Ice Shaver Snow Maker

This hand crank Ice crusher machine has stainless steel blades and is used to crush big ice into crushed ice..
Make shaved ice for your bar, kitchen, party or just for the kids snow cones.
Use shaved ice under slice fruits and vegetables.
Handle and other casing is plastic.
See additional pictures at purchase site.
more...

Hamilton Beach Ice Shaver for delicious frozen shaved ice treats.
With this ice shaver you can enjoy icy drinks, snow cones and slushies made with your favorite soda, juice or fruit.
Use the included mixing bowl or shave ice into your own dish for snow cones.
Easy to clean - all removable parts are dishwasher safe.
Oggi Double Wall Ice Bucket with Flip Lid

OXO Good Grips Plastic Ice Bucket w/ Ice Tongs

Keep your ice cool and clean at social gatherings.
Has an acrylic flip top.
This ice bucket comes with a stainless steel ice scoop for easy serving of ice.
Holds around 4 quarts of ice.

This OXO Good Grips ice bucket has double wall construction for insulation.
Holds 4 quarts of ice.
Internal moat keeps melted ice away from cubes.
Ice tongs have sharp teeth to make grabbing ice easy and they rest on the side of bucket when not in use.
Clear 2pc Appetizer Server with Ice Tray

Over 750 Recipes for Cocktails, Smoothies, more

One of the uses of crushed ice is to keep those party appetizers cool and delicious.
Bottom tray holds crushed ice to keep food chilled.
Perfect for indoor and outdoor parties.
The clean and clear design of this appetizer ice tray allows it to fit in any decor.
Easy to clean. Use mild soap and water.
16 1/2" Diameter.

Party drinks are, of course, another use for all that crushed ice.
For an intimate dinner for two to a block-party bash, raise your glass and celebrate with Bruce Weinstein's The Ultimate Party Drink Book.
Never through a boring party again with all the choices you have here.
Friends don't drink - Make some of the smoothies.
| | |
| --- | --- |
| Buy Crushed Ice Makers Here ---> | |
Prefer Your Ice Crushed?
These small portable crushed ice machines will do that for you. Put it in your iced tea or party drinks, in serving dishes to keep those party snacks cool or just munch away on it all day.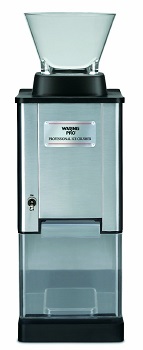 Waring Pro IC70 Professional Stainless Steel Large-Capacity Ice Crusher

This one is a favorite with consumers.

It has heavy-duty stainless steel blades and crushes up to 50 lbs of ice per hour.
Has a wide mount funnel attachment for your cubes and the catch container holds up to 12 cups of crushed ice.
Has a on/off toggle switch for easy operation. The user manual also includes some recipes for you.
---
Check out the selections above or go to one of these secure online shopping sites to read more reviews and purchase the crushed ice maker of your choice:
Ebay.com Walmart.com
---
Related Content
Portable Ice Maker
You may also want to check out the Portable Ice Makers if you prefer cubes to crushed. If you are planning a party then you may like to have both types available for your guests enjoyment.
Undercounter Ice Maker
If you have a big family and just use a lot more ice cubes than your refrigerator can keep up with then you may want to permanetly place a portable ice maker under your counter or even get one of the table top versions.
Is Constantly Craving and Chewing Ice a Sign of Anemia
Interesting article about nutritional problems that may cause you to crave and chew ice.
Portable Ice Maker About Us Contact Us Privacy Policy Sitemap Cute Photos Links



Copyright 2013. All Rights Reserved.
http://portableicemakers.itsthebuzz.com
"Affiliate Disclosure: Most of the links on this site to other retailer sites are affiliate links, which means that if you click on the link and make a purchase at that site I will receive a commission on your purchase. I appreciate and Thank You for your support."
"This website is a participant in the Amazon Services LLC Associates Program, an affiliate advertising program designed to provide a means for sites to earn advertising fees by advertising and linking to Amazon.Com."